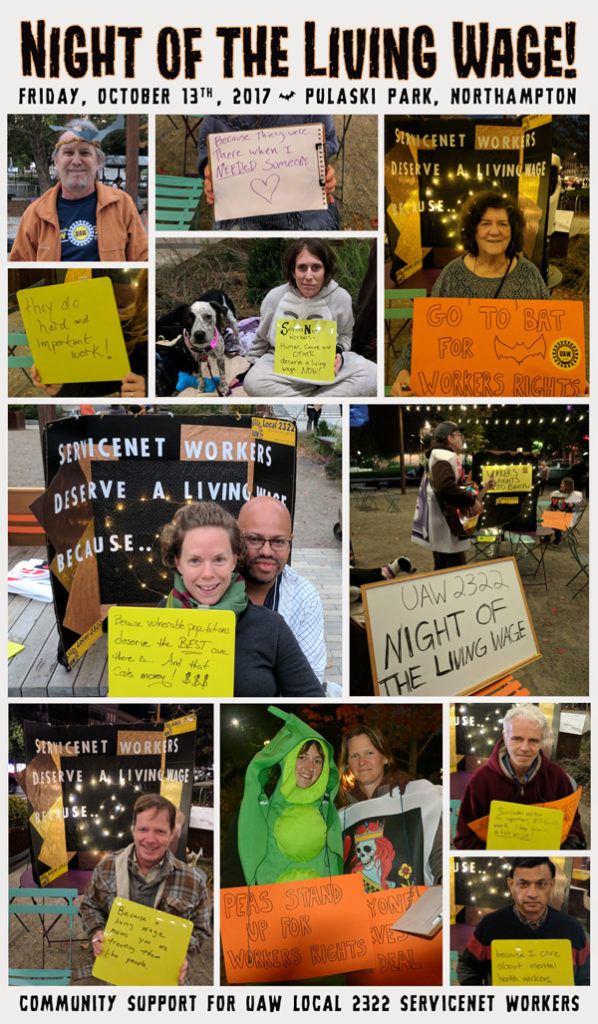 On Friday October 13th, Local 2322 members held a "Night of the Living Wage" action at Pulaski Park in Northampton. Members of the ServiceNet Bargaining Committee dressed in costume, gathered petition signatures, played live music, and ran a photo booth where community members could be photographed with their messages of why they believe ServiceNet workers deserve a fair contract and a living wage.
The work that ServiceNet counselors do is invaluable to our community, and that was made clear through the messages of support written by the people who stopped to talk with us and have their photo taken. Some of those messages include that ServiceNet workers deserve a living wage because…
"…vulnerable populations deserve the BEST care there is, and that costs money!"
"…they do hard and important work."
"…because they were there when I NEEDED someone."
"…they go above and beyond to provide the best care to the most vulnerable people in our community."
"…this makes sense."
"…because a living wage means you are treating them like people."
"…ServiceNet workers do important, difficult work. They deserve a fair wage!"
"…because I care about mental health workers."
"…ServiceNet's direct care workers deserve a living wage! Don't let ServiceNet tune you out!"
Thank you to all of our members who made this possible and thank you to the people in Northampton who stopped by to talk with us and share your reasons or ServiceNet workers deserving a living wage. Now we call on ServiceNet to be leaders in the living wage campaign. We know they can do it!
You can see more photos on our facebook page.