Since April the Resident Assistants (RAs), now with the addition of the Peer Mentors (PMs), have been battling with UMass Administration to receive the same fairness offered to the other unions on the Amherst campus, including fellow UAW 2322 members (Graduate Employees and Po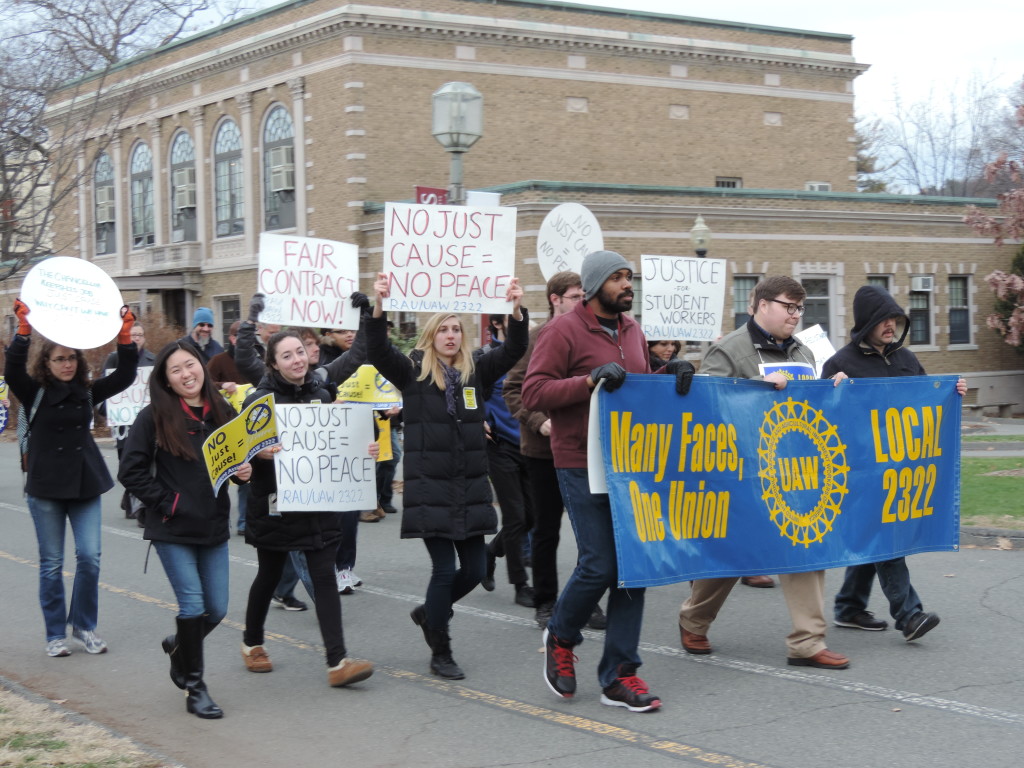 stdocs).
Tuesday, December 8th, a rally formed at the student union building and marched their way to the administrative offices at Whitmore.  UAW 2322 President, Jocelyn Silverlight, UAW Region 9A Regional Director, Julie Kushner, and three union members from the RA unit spoke to the gathered crowd and passersby, educating them to the struggles being faced right there on their own campus. After the speeches a small contingent broke off and entered the building to deliver a message to Chancellor Kumble Subbaswamy and hand him almost 600 petition letters from supporters.  The other union members and supporters remained outside chanting and cheering, trying to be heard through the glass and cement walls that symbolize the barriers between this administration and its student workers.
UAW Servicing Representative for the UMass Amherst's Resident Assistants and Peer Mentors, Court Cline, explained that these employees "live and work in undergraduate residence halls coordinating student activities, assisting with security functions, and providing peer counseling, crisis intervention and resource referral services.  RAs and PMs are currently negotiating a union contract with UMass Amherst.  UMass refuses to agree to 'just cause' for discipline, even though all other unionized employees at UMass Amherst have such protections.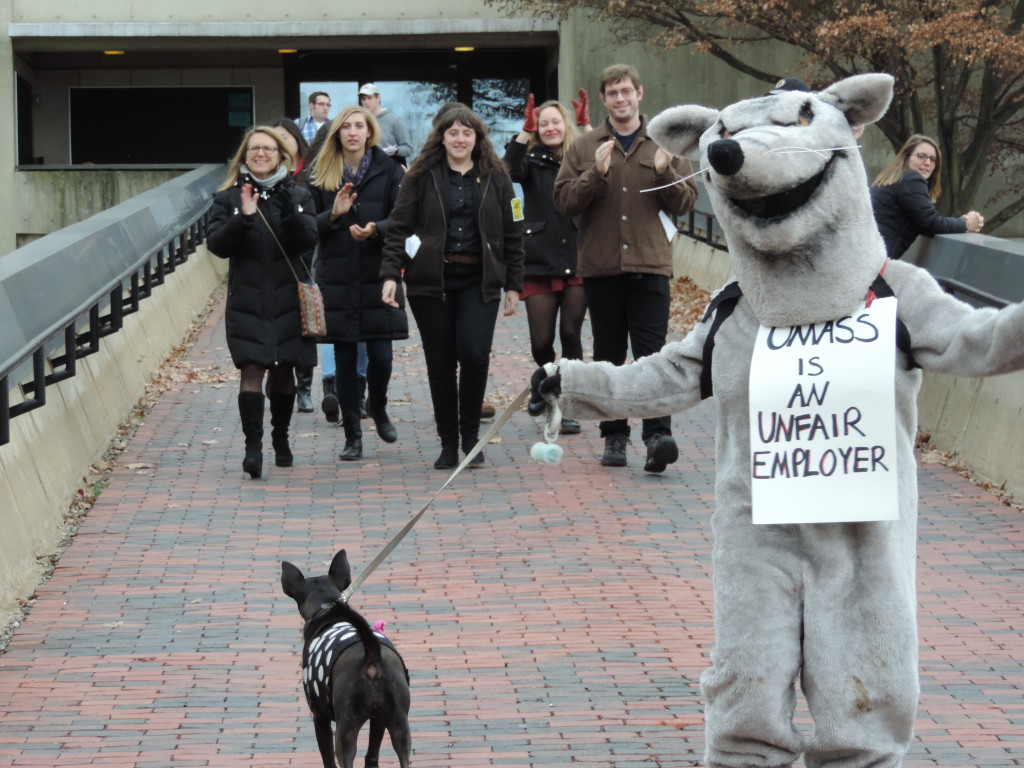 UMass administrators want to keep the power to fire RAs and PMs without any need to justify their decisions. These decisions have serious consequences.  When RAs and PMs are fired, they not only lose their pay and benefits (including their room subsidy) but they are immediately evicted from University housing, often throwing their lives into chaos and interrupting their education."
WHAT DOES JUST CAUSE MEAN?
Sufficient facts to justify discipline.
A fair investigation.
Prior notice of the employer's expectations.
A chance for correction prior to termination (except in cases of egregious misconduct).
Consistently applied rules
Discipline proportional to the violation.
The right to appeal an unjust decision to a neutral arbitrator.
WHAT INJUSTICE LOOKS LIKE:
Fall 2011: an RA with all positive performance reviews was fired for "not exhibiting proper role model behavior" on his personal Twitter account.
Fall 2013: an RA with two years of stellar work performance was fired for violating a fire safety policy, after a surprise room inspection uncovered unlit Sabbath candles in his room given to him by his mother for the upcoming Jewish holidays. 
Fall 2014: an RA with one year of excellent work performance was fired for checking out the Master Key to let herself back into her residence, and falling asleep for a few hours before remembering to return the key.
Spring 2015: an RA with a good performance record was fired for missing a supervisory meeting and being late to a staff meeting, due to problems adjusting to a new medication.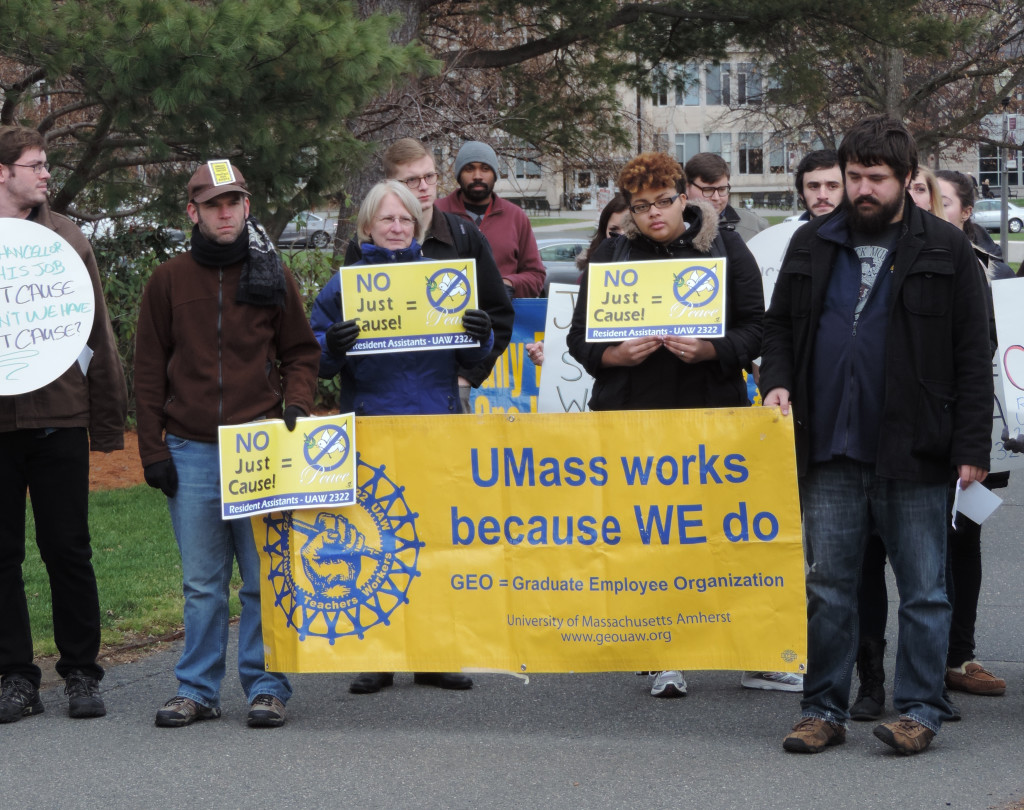 Do you believe these workers deserve fair treatment before termination? Want to help? Ask UMass Chancellor Kumble Subbaswamy to give Just Cause to his employees.  Call:  413-545-2211, Write: 374 Whitmore Building, Amherst, MA 01003, or E-mail: chancellor@umass.edu.