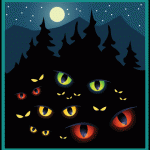 Motorists
Watch for children darting out from between parked cars and walking in the road.

Enter and exit driveways with extra caution.

At twilight and later in the evening, watch for children in dark clothing.
Parents
Make sure that an adult or an older responsible youth will be supervising the outing for children under age 12.
Know the names of older children's companions. And establish a return time (make sure they have a watch).

Instruct your children to travel only in familiar areas and along an established route.

Teach your children to stop only at places that are well-lit and never to enter a stranger's home.

Tell your youngsters not to eat any treat until they return home.

Openly discuss appropriate and inappropriate behavior at Halloween time.

Review all appropriate trick-or-treat safety precautions, including pedestrian/traffic safety rules.

Pin a slip of paper with the child's name, address and phone number inside a pocket in case the youngster gets separated from the group.

Children should carry quarters (or cell phones) so they can call home or 911 in an emergency.
Only fire-retardant materials should be used for costumes.

Costumes should not be so long that they are a tripping hazard.

Wear light-colored or reflective-type clothing so you are more visible. (Remember to put reflective tape on bikes, skateboards, and brooms, too!)

Children should wear well-fitting, sturdy shoes. High heels are not a good idea.

Because masks can limit or block eyesight, consider non-toxic makeup and decorative hats as safer alternatives. Hats should fit properly to prevent them from sliding over eyes.
Accessories
If a sword, cane, or stick is a part of your child's costume, make sure it is not sharp or too long.
Bags or sacks carried by youngsters should be light-colored or trimmed with retro-reflective tape.
If children are going to be out after dark, make sure they carry a flashlight with fresh batteries.
 On the way
Walk, do not run, from house to house. Do not cross yards and lawns where unseen objects or uneven terrain can present hazards.

Look both ways before crossing the street to check for passing vehicles. Make sure they see you before crossing.

Walk on the left side

of the road, facing traffic if there are no sidewalks.

Don't hide or cross the street between parked cars.

Carry a flashlight to light your way.

Keep away from open fires and candles. (Costumes can be extremely flammable.)

Visit homes that have the porch light on.

Accept your treats at the door and never go into a stranger's house.

Be cautious of animals and strangers.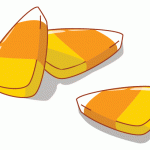 Treats
Serve a good meal prior to parties and trick-or-treating to discourage youngsters from filling up on Halloween treats.

Insist that treats be brought home for inspection before anything is eaten.

Wash fruit and slice into small pieces.

When in doubt, throw it out.

Tell children not to accept–and, especially, not to eat–anything that isn't commercially wrapped.

When children bring their treats home, discard any home-made candy or baked goods. Parents of young children should also remove any choking hazards such as gum, peanuts, hard candies or small toys.

Try to ration treats for the days following Halloween.

For a list of Union made Halloween treats visit: www.unionplus.org/union-made/halloween-treats
Homeowners should prepare their home for trick-or-treaters by removing obstacles from the front yard, restraining animals, and lighting the house well.

If you set jack-o-lanterns on your porch with candles in them, make sure that they are out of the way so that kids' costumes won't accidentally be set on fire.

Provide treats that are individually wrapped or offer nonfood treats, such as stickers, erasers, coloring books, pens, pencils or coins.

rtificial lights are a safer alternative to real candles with a flame that can pose a fire hazard.

If going to an adult Halloween party, make sure that you don't drink and drive. Use a designated driver!

Wet leaves should be swept from sidewalks and steps.

Consider serving healthy food alternatives for trick-or-treaters include packages of low-fat crackers with cheese or peanut butter filling, single-serve boxes of cereal, packaged fruit rolls, mini boxes of raisins and single-serve packets of low-fat popcorn that can be microwaved later.
Small children should never carve pumpkins. Children can draw a face with non-toxic markers.
Votive candles are safest for candle-lit pumpkins.
Lighted pumpkins should be placed on a sturdy surface, away from flammable objects, and should never be left unattended
Pet Safety

Other resources

We hope everyone has a Safe Halloween!