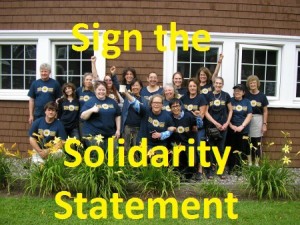 Dear Sisters and Brothers,
The unionized faculty and staff of Goddard College are waging a difficult struggle, not only to win fair labor contracts but to retain our full rights and dignity as knowledge workers, enabling us to foster the rich learning environment our students deserve. We're asking for your support to let the college's Board of Trustees know that we're not alone. By signing the solidarity statement, you can tell the Board that you support both workplace justice for Goddard employees and our right to have a say in the future direction of our learning community.
Here's the background.
Goddard College is a progressive, low-residency institution with a main campus in Central Vermont and West Coast locations in Washington State. The College is observing its 150th anniversary this year. Goddard faculty and staff are members of Local 2322 of the United Auto Workers, which represents over 40,000 workers in higher education nationwide. The faculty, unionized since the 1990s, has been without a contract since June. The staff, which joined the UAW earlier this year, is trying to bargain a first contract.
Negotiations are taking place in a tumultuous institutional environment. Goddard's President, Barbara Vacarr, who has led the college since 2010, recently announced that she will step down at the end of the year. Her tenure has been marked by controversy over her leadership style and restructuring initiatives, which have coincided with a drop in enrollment. The Vacarr administration strongly opposed the staff's effort to unionize, and has repeatedly resorted to intimidation tactics against Goddard community members who openly disagree with leadership decisions. For the past several months, the administration has publicly trumpeted its intention to balance the budget by means of steep cuts to employee pay and benefits, including an 8% pay cut for most unionized employees, suspension of a retirement match, and an end to severance pay for laid off workers. The administration has threatened to declare impasse and unilaterally impose these cuts if an agreement is not reached on a timetable acceptable to the employer.
Goddard faculty and staff have responded by coming together. We recently publicly released a "Solidarity Statement," signed by over 85% of the unionized workforce, which calls on the Board of Trustees to adopt some basic principles of institutional reform and labor justice. which we see as the path forward to a revitalized Goddard.
This Solidarity Statement 'represents a positive vision of Goddard's future as well as the powerful sense of solidarity that has developed among the faculty and staff, and our strong, shared commitment to Goddard's success.
We know that many of you share our vision of a vibrant, democratic learning community in which worker rights are respected. We hope you will sign our statement and send a message to the Board of Trustees that the greater community stands with us.
In Solidarity,
The Goddard College Faculty Union Bargaining Team
The Goddard College Staff Union Bargaining Team
SIGN OUR SOLIDARITY STATEMENT HERE
Stay up-to-date on our Facebook page, "I Support Goddard Faculty and Staff"
---
Update: Signers as of 10/15/2013:
Ryan Quinn
Allyson Bunch
Thomas Barrasso
Bhanu Kapil
Jeffrey Schuhrke
Emma Strubell
Soren Hough
Eric Hoyt
Zachary Kimes
Sean Robinson
Alexander Ponomareff
Adam Norton
Corey Walters
Kyla Walters
Anna Waltman
Adity Yadav
Heather Pipino
Laura Keskula
Cristine Jorge
Benjamin Herson
Michael Klein
John Roblee
Nini Hayes
Jeff Balfour
Shirley Markham
Kristin Warner
Russell Pandres
Bethe Hagens
Eva Schectman
Timothy Sutton
Eric Smith
Thomas Prutisto
Michael Crouch
Maya Janson
Donica O'Malley
Colleen Ashley
Dave Madeloni
Ilke Ercan
Grace Cleary
Nicola Morris
Katherine Newkirk
Jon Weissman
Tyler Baer
Jeremy Wolf
Robert Descoteaux Jr.
Delene White
Liza Birnbaum
Cornelius Eady
Adam Daniell
Lexcy Prahl
gloria Brandmn
Brett Bailey
Joan Larkin
Dr. Tom Neilson
Louis Faber
Richard Brown
Eric Hopkins
Wilfred Loh
Kirsten Helmer
Donald Cronin
Emily Barnett
Makai McClintock
Maryelen Calderwood
Eugene Glickman
Otto Muller
Ember Skye Kanelee
John Gordon
Nancy Hoch
Susan Hambleton
Amy Bookbinder
Ryan Quinn
Yan Liu
Jaime Myers-McPhail
James Laberge
Michael Zweig
Stephanie Trotter
Marjorie Delaney
Glenn Proud
Matthew Palmer
Daniel McDonald
Samya Stumo
Lacey Mower
Christopher Hoel
Jonathan Jenner
Evan Taylor
Hollis Graham
Ayana Suber
Johannes Raatz
Matthew Donlevy
Andrew Yale
George Chappell
Peter French
Scott Andy Taylor
Christine Brubaker
marion hohn
John Borstel
Todd Ricker
Court Cline
Ellie Epp
Irene Boeckmann
Norah Alaraifi Softic
Gregory James
Carly Houston
Timothy Daniels
Myrna Rodriguez
Michele Patin
Scott Burns
Jordon Bosse
charles rogers
Nancy Barnes
Rick Fantasia
Julia Legler
Benjamin Dauer
Carolyn Bardos
Joshua Marland
Calyb Hare
Rafael Nunes
Mandy Blackburn
Alethea Kehas
beverly gologorsky
Norman HIrschfeld
Linda Marshall
Andrew Goulet
jane lazarre
Christian Pulver
patricia rogers`
Chriztine Foltz
Kyle Thorne
Deborah Mutnick
Vanessa Steck
Bryan Monesson-Olson
Laiwan Chung
Claire Potter
Traci Ellithorpe
Mary Wentworth
David Pritchard
Patrick Burke
barbara madeloni
Maggie Cleveland
Emma Nelson
Amber True
Brooks Ballenger
Susan Deer Cloud
Margaret Riordan
Sarah Dingman
Ronna Lytle
Scott Youmans
Dr. Stevens Amidon
Kevin Sullivan
Cerridwen Aker
Lia Van Ness
santiago vidales
Daniel Lang
Giovanni Ciarlo
Emmeline Cordingley
Daniel Ravizza
Kevin Felton
Neema Caughran
Michael Keller
Jill Savage
Eric Darton
Robert Hershon
Robert Hershon
Doreen Foley
April Genung
Amanda Robinson
Jill Goldberg
Annis Campione-Karpenko
Kathleen McLellan
Leo Maley
Jan Ronan
George Bloom
Mary Alexander
Gregory Sargent
John McGrath
Lise Brody
Celia Hildebrand
Hettie Jones
Elise Swinford
Anne Smith
Alexx Wilcken
Frank Farkas
Frank Farkas
Annette Falkman
Lena Quinn
jasper robards
Kathleen Doherty
Patty McGill
Alexander Joy
Mary Sui Yee Wong
Nina Friscia
Gunner Scott
Tina Baldera
Richard Blum
Kelley Hunt
Jared Culverhouse
Jocelyn Silverlight
Thomas F Gogan
Kelly Covey
Karen Brummond
Allyson Sironi
Eesha Williams
Melissa Parker
Hyacinth Blanchard
Jeff Jones
Michael Fogg
Judy Roitman
Elizabeth Mattison
Ro Garrido
Sadie Baker
Claudean McKellips
suzanne searle
Laura Maria Censabella
Susan Sanders
Seema Reza
Andrea Bustolin
Rachel Rahn
dixie lubin
Debra WALTER
Karen McAninch
Ken Lassman
Sandy Snook
Ashley Gallo
Ashley Gallo
Debbie Harris
eva Kollisch
Bukola Okuwobi
Rita Wong
Nancy Hubble
Santo I Alers
Stephen Bailey
Marcia Eagleson
Lori Schreiner
Jane Summer
Mary Johnson
Sayra Pinto
Anne Finger
Jeremy Pikser
Duane Tollison
Elliott Kalan
Michael Winship
Susn Kim
Henry Bean
Gina Gionfriddo
Justin Molito
Laurence Klavan
MARY ANDRADE
Herbert Kline
Jacquelyn Reingold
Eileen Brunetto
Courtney Simon
Darren D'Amato
Linda Traceski
Allison Tevald
Bob Schneider
Shaiya Caughran
Charlotte Phillips
Martha Clark
Kathryn Levy
Chip Phillips
Emma Wrigley
Julia Bouwsma
Titi Randall
Melissa Salmons
andrea ciannavei
Marija Mikolajczak
Anne Clune
Karen Young
Carla Norton
Natalie Lassman
David Pizzuti
Gay Mathews
Dora Ramos
Cathy Vincevic
David Prodanas
Cyn Horton
irene willis
Traci Dolan
Debra Warner
Julietta Rose
Debbie Weyl
Anne Haehl
Geoff Betts
heather huddleston
june benjamin
Carla Occaso
Rachel Cooper
Jim Raposa
Diana Souza
John Noviello
Tonya Casey
Jonathan Wright
Eric Harriott
Danielle LaFleur Brooks
Maryann Stacey
Robin Karov
Amy Hoffman
Deanna Pindell
Louise Halsey
Mark O'Maley
June Adams Fiske
Tiffany Yee
Robin Mascitti
Charles Fuller 3rd
Barry Goldberg
Lynne Constantine
Larry Goldbetter
Jennifer Applequist
j. Angus Munro
Carol Coakley
Patrick Brennan
Mark Schulman
Renee Rankin
Saranella Childs
Rob Brennan
Robin Anderson
Sheila Collins
Paul Gordon
Blakeley White-McGuire
Bridget Connor-Feldbaum
Thuy Nguyen
Matt McGrath
Peter Hocking
Jack Edwards
Elisabeth Frost
jean chapin smith
Linda Johnson
Britta Wheeler, Ph. D.
Charlene Smith
Wanda Cacicio
Theodore Feng
David Dogonski
Susan E. Davis
Lisa Henderson
Rickie Mallory
Gregory Tewksbury
Nina Woodsum
Kriota Willberg
Christian Peet
Ron Estrada
Jessamyn Smyth
Chanika Svetvilas
Nashay Jones
Julianna Spallholz
Leisl Johnson
Emily Benson
Selah Saterstrom
Alan Semerdjian
Debra Lanham-Newhouse
Casey Krone
Barbara DeCesare
Drew Dillhunt
Daniel Leclerc
Alexandra Porsi
Joe Gilford
Teresa George
Sarah Browning
Craig Auchter
Jeremy Simer
Shelley Gillespie
Alison Mandaville
Christine Johnson-Duell
Sejal Shah
Katherine "Katy" Peterson
Al Gladyck
Patricia Flaherty Pagan
Megan Taylor
Danielle Allessio
Avery Furst
Eliot Fisher
Julie Parent
Barry Blumenfeld
Robert Dick
David Lamoureux
Warren Bradley
Christopher Stone
Robert Schaefer
Desmond Peeples
kay kenny
Josephine Dorado
Bruce Myers
Joan Schuman
Barbara Siegel
Margrit Lewczuk
Bonny Hart
Dale Turk
Charles Potter
Jenny Lynn McNutt
Beata Szpura
Alma Phipps
NANCY FISH
Stacy Stearns
Mary Hynes
Jessica Joy
Nikolas Bazurto
Joel Schlemowitz
Lanny Harrison
Faith St John
Angela Davis
Winston McIntosh
Nancy Norbeck
Robyn Lynn
Owen McDonnell
Deanna Pindell
Ronni Komarow
Michael Balter
Wanda Pothier-Hill
Lara Mohr
David C Wright
Christina Baldera
Eleanor Topping
Andy Mennick
Catherine Nichols
Gilbert Dubé
Lew Humiston
Debbie Hill
William Phipps
Meg McHutchison
Terre Parker
Joseph Gainza
Mark Hage
Tiffany lee Brown
Alan Taplow
Alan Taplow
David Kreindler
Deb Hawthorn
Megan Lederman
David and Sally Conrad
Leonard wift
Jay Moore
Christine Toth
Karin Bolender
Matthew Andrews
Sue and John Morris
Nancy Rice
Lida Winfield
Heather Pipino
Sandra Gaffney
Maura Stephens
Cassandra Edson
Walter Carpenter
Edward Stanak
Daniel Leclerc
Marcia Mason
Elaine Edelman
Robert Sikoryak
Megan Sandberg-Zakian
Edward Baumgarten
Susan Mayer
Robert Tufts
andy felix
Richard Schiff
Saul Walker
Robert Bryant
Julie Sayres
Amy Lester
Vashti de Verteuil
J.P MARSHALL
Marty Barto
Lizzie Olesker
Susan Lob
Jack Eppler
Sheil Blinn
Teresa George
Kathy Melish
Tom Zafian
Kathleen Flaherty
Pamela Booker
Corinne Goodman
Ellen Martins
Chris Rzonca
Karen McAninch
Sharyn Finnegan
Jocelyn Lieu
Wendy Shinn
Gloria Raposa
Claudia Marieb
Anita Feldman
Sharon Sawyer
Michael Belt
Leland Bryant
brigid flaherty
Susan Mills
Rhea Alexander
Shae Savoy
Mark King
Ariel Churi
sylvia burroughs
sylvia burroughs
Yolanda King
Rob Bass
Irene Smookler
elana levin
Jonah Kruvant
Elizabeth keyishian
Donna Stuccio
Julian Baptista
Elizabeth Hodgson
William Rosenthal
Catherine Twohill
Josh Pollock
Michael Johnson
Sheila Curran Bernard
David Steinhardt
Lara Fields
Dr. Barbara C. Johnson
Lisa Reist
Kally Miester
Christine Piesyk
Ronda Stout
Marty Heebner
Susan Vitucci
Austin Roberts
Margaret Blanchard
ANGELA PATANE
Judith Plaskow
Bhanu Kapil
Jeffrey Parry
Paula Stuttman
Griffin Shumway
Grace LeClair
Connor Hannan
Keith Olson
Elizabeth Reed
Daniel Kincaid
Joanna ColeJoannaC
Carolyn Norton
Paris Alexandra Williams
Kara Darling
Jim Ollis
Kendra Lara
Cerridwen Aker
Amber McZeal
Alexis Lounsbury
Aaron Howland
Morgan Tachco
Taylor Quilty
Annie J. Plick
Kim Govoni
Mimi Yahn
Keziah Roy
Diane Gonzalez
Ceara Moss
Jeff Everett
Alfonzo Aliomar
Jason Haas-Hecker
Catherine Bult
Monica Lauren Sivak
Amy Cain
James Jameson
seneca kristjonsdottir
Jay Masika
Jennifer Johns
Jodi Johnson
Lana Lee
Simone John
christian smith
Kori Waring
Yvonne Raphael
Kieran Hixon
Tiffany Howard
Denis Howard
Ellie Williams
Juanita Butler
Mary Taylor
Linda Howard
Tiffany Glenn
Fawn McManigal
Mark Anderson
Laura Barnett
Lily Naha
James Pimental
Max Brown
Emily Grace Knight
Oliver Ceelen
Elizabeth Jesdale
Mary Post
Deborah Payson
Stella Reed
Winifred Rose
James Haslam
Sandra Gaffney
Adam Norton
Laurel Byrne
Nye Green
Charity Goodrow
Jayson Stoner
Bob Ellis
Kate Kanelstein
Cameron Price
Quinten Anderson
Samantha Rush
Robert Henry
Julian Pimiemto