Pete Seeger, singer, writer and champion of causes, died on Monday in a New York hospital at age 94.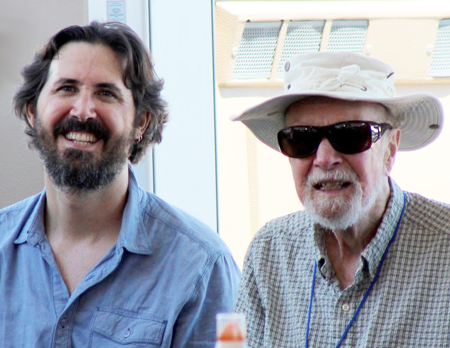 Tao Rodriguez-Seeger & his grandfather, Pete Seeger at the Newport Folk Festival. Photo by Scott LaRochelle, UAW Lupa Representative
"While many people disagree about what their 
favorite song or lyric by Pete Seeger
 i
s, no one disagrees about the profound impact that the folk-singing legend had on the labor movement in the second half of the 20th century.
Seeger marched and performed at hundreds of rallies for different unions over the years.
Henry Foner, who had known Seeger for more than 60 years, remembers one meeting in particular for the hospital workers union, when Seeger brought his banjo and entertained the crowd for hours."
To read the full article by Ross E. Weingarten [The Poughkeepsie (N.Y.) Journal] visit: http://www.freep.com/article/20140128/ENT04/301280066/Pete-Seeger-labor-movement