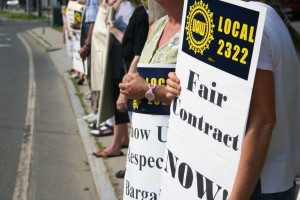 ServiceNet Unit Meeting Update from your servicing rep, Brooks Ballenger!
We had a great meeting and discussion about the struggle to win a fair contract at ServiceNet. We discussed ServiceNet and the Union's proposals at length. Although ServiceNet has upped their offer to 2% the first year, many members expressed outrage that we are still being offered 3 years of NO guaranteed raises. No one was impressed by the offer of "wage re-openers" which ServiceNet does not have to bargain in good faith. We also found it extremely unfair that Senior Administrators making more than $160,000 pay less for the same health insurance than counselors who start at less than $24, if they are full time. Bargaining Team members Jon King, Mary Hynes, Eric Hopkins, Peter Thews, and Meghan Lemay all encouraged members to attend bargaining sessions. The next session is Wednesday July 10 from 9 am to noon, lower level 296 Nonotuck St., Florence. Members can come to any portion of the session. Steward Steve Wilson brought up the idea of a Facebook page about the ServiceNet struggles.
Members also brought up important concerns with constantly being denied vacation and holiday time, getting forced to come in sick, inappropriate medical duties, and being asked to drive clients in their personal vehicles.
Driving Clients: You are not required to ever transport client in your own car. Why take on extra liability, wear and tear on your car, and get reimbursed at a sub-standard rate? We recommend: Just Say No!
Vacation, Holiday & Sick Time: If you are being denied time off, put your requests in emails so we have documentation. Call Brooks (413) 534-7600 ext. 13 if you keep getting denied. Look at the rules on Holidays in the contract (you can find an online copy of the contract at http://66.147.244.135/~uawtwoth/wp-content/uploads/2013/02/snet_contract_2011-2013.pdf). You may be eligible for an extension to use a holiday, or to cash them out at your rate of pay. Don't come in when you're sick. It's not fair to you and not fair to the clients. It's ServiceNet's job to find relief, not the counselors—especially when sick.
Medical Duties: Counselors should never give an injection or perform a medical duty beyond your training.