"The 31st Annual Bread and Roses Heritage Festival will be held, as always, on Labor Day. This year on Monday, September 7th, 2015!
It is a FREE, open air, labor and social justice event, on the Lawrence Common, from noon to 5:00 PM

Enjoy an eclectic day of musical, dance, and theatrical performances from a range of cultures representing American Folk, Puerto Rican Salsa, New Orleans Cajun and Blues, Cambodian performing arts, Hip Hop, Theater, Spoken Word Poetry, and more! 

Hungry? Stroll down the walkway of food vendors to choose from American BBQ, Dominican pastelitos, Turkish falafel, Vietnamese pho ga, Mexican tacos, and other international treats!
Have Children? The Kidz Zone will surely put a smile on children young and old with pony rides, face painting, hula hooping, a juggler, sign making, and even story telling!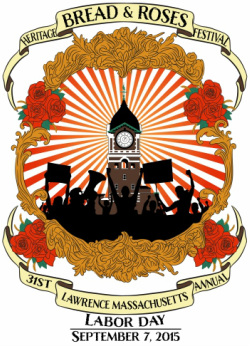 Activist? Our row of information vendors brings together community groups and non-profits from around the area to have discussions with visitors on the many issues we face, provide resources for those who need help, and opportunities for those wanting to get involved further.
Organizer? Lawrence History Live and the Workshops are the spot for you. Gain significant insight into the struggles of the past, and use those lessons to reinforce your efforts today. Also, participate in dialog regarding contemporary labor and social justice issues with presenters with experience on the front line."
For directions, schedule, and more information visit http://www.breadandrosesheritage.org/