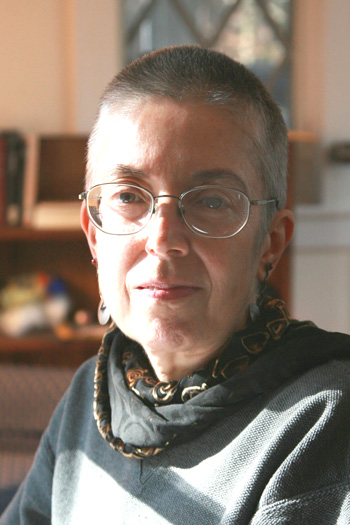 By: Ryan Quinn, UAW 2322 Servicing Representative/Organizer
The first time I met Jan Clausen in person was in April 2013, as we leafleted outside the New York International Auto Show on behalf of Nissan workers trying to organize with the UAW. For years prior, hers was a familiar voice calling into Joint Council meetings from her home in Brooklyn as a representative of faculty unit at Goddard College (GCFU). In fact, the majority of my conversations with Clausen – both as a member of the Joint Council and now as the Servicing Representative for GCFU – have been by phone.
Because Goddard has multiple low-residency sessions throughout the year, some faculty members may spend only a few weeks on campus, may only see the faculty in their own program, and most faculty members reside at a considerable distance from the college's Plainfield, VT campus. This makes phone conversations and online meetings crucial for organizing – a process Clausen has spearheaded throughout the past two years during her tenure as chair of the GCFU Bargaining Committee. Clausen worked with GCFU President Muriel Shockley and Vice-President Ju-Pong Lin as well as the rest of the GCFU Bargaining Committee to answer members' questions and address their concerns on countless conference calls culminating in a strike authorization vote and a contract ratification vote, held this past March, that rejected management's last offer.
Throughout those difficult conversations in negotiations, it has become clear to me that Clausen's ability to redirect conversations that veer toward ad hominem attacks or which merely go slightly off-topic has been decisive in having productive conference calls and bargaining sessions, and that her fearlessness at the bargaining table has served the members of GCFU well. It has long seemed to me that not only I but perhaps others in the Local could learn from her experience and example. Clausen, the author of a dozen books of poetry, prose, and a memoir, is releasing her most recent collection, Veiled Spill: A Sequence this month. I spoke with her about her new book and her experience in the UAW for this month's Member Profile.
Quinn: How long have you taught MFA Writing at Goddard College?
Clausen: I began teaching in the Goddard MFA in Writing Program about 25 years ago. I taught for a few years, left to increase my teaching load at the New School, and returned to Goddard in 2000. Whereas early on I knew little about the college beyond what happened in my own program, in recent years I've become more involved with the broader institution, serving on the Faculty Council and as chair of the faculty union bargaining team.
Q: I understand you belong to several UAW locals. In addition to Local 2322, you have been a member of ACT-UAW, Local 7902 both as faculty at the New School and New York University. Additionally, you are a member of the National Writers Union, Local 1981. Are there any lessons you think UAW 2322 members could take from your experiences elsewhere in the UAW?
C: My experience with Local 7902 involved actually helping to organize the New School unit for part-time faculty, going through Labor Board hearings, and serving on bargaining committees for two successive contracts. I guess the lesson there is that anything is easier than taking those first steps – but also that most employers never quit trying to erode gains made by the union.
Both Locals have succeeded through a combination of tireless organizing (well, actually, sometimes it is tired organizing, but nonetheless, it is ongoing!) and savvy use of the media to pressure employers to do the right thing. At times, our challenges in Local 2322 are a little different because we represent such a diverse collection of shops. In reality, though, all three locals face versions of the same problem – how to actualize the notion that unity = strength while honoring the fact that our members' diverse locations generate different perspectives, and at times different needs. We can all learn from each other!
Q: You were the primary voice on the Joint Council responsible for getting UAW 2322 to affiliate with U.S. Labor Against the War (USLAW), and have served as an officer of the New York City chapter of USLAW. Which USLAW actions and initiatives would you like UAW 2322 members to be aware of? What can 2322 members do to get involved with USLAW?
C: USLAW's broad mission is "Demilitarizing U.S. Foreign Policy – Organizing for a New Economy." Since its founding in 2003 on the eve of the Iraq invasion, important work has included building solidarity with Iraqi trade unionists and influencing the AFL-CIO to take pro-peace positions. Because USLAW doesn't currently have a chapter active in New England, Local 2322's participation is through the New York City chapter. The first thing I'd suggest is to sign up for USLAW's e-mail list. You'll receive occasional "Action Alerts," e.g. a notice to call your congressional representative when a key vote is scheduled. With a ramping up of military operations against the Islamic State in a region from which U.S. troops withdrew just a couple of years ago, USLAW's mission seems more relevant than ever. To get on the mailing list, go to: http://org.salsalabs.com/o/2488/signup_page/subscribe
Q: As Bargaining Committee Chair for the Goddard Faculty, you have worked on one of the most contentious negotiations in the Local's recent history. The Goddard Faculty have faced threats that the college would close, demands for pay cuts, and ultimatums eliminating severance pay, yet they have remained united. How have you and the bargaining committee persevered and maintained solidarity in such trying circumstances?
C: Goddard is an interesting place. We have a lot of free spirits on the faculty, and sometimes we can look a little ragged around the edges, but there's an intense commitment to Goddard, our students, and each other. I think the key is that many of us realized we weren't only fighting for a contract, important as that is. We were (and are) fighting for our ability to keep on doing the intellectual and creative work we do as permanent (not disposable) members of the rooted community that sustains us.
Q: Your most recent book, Veiled Spill: A Sequence, was begun as a response to the Deepwater Horizon oil spill in the gulf and the emergence of laws in Europe banning the full face veil. How does your writing bridge your personal life and your activism? How do you find time to write with your teaching commitments?
C: My "creative" writing – poetry, fiction, and nonfiction – is always engaged with big political issues as well as small personal moments. It's often the overlap of the two that fascinates and inspires me. Writing gives me a way to "talk back" to reality – to shape words in response to a pileup of events so fantastic and accelerated that it can't be described only felt – yet whose impact we are going to be living with for a long time. So there's a common context to my writing and my activism. I'm not sure there's exactly a "bridge," however. In my creative work, it's as if I'm meditating on the realities I perceive, without any expectation of changing them. It's in my activism that I consciously try to nudge the world in a different direction. Finding time to write is always a struggle, yet I also draw energy and inspiration for my writing from conversations with my students, and from being an organizer.
Q: Where can members purchase the book? Do you have any readings coming up that we can let people know about?
C: The easiest way to buy the book is to order direct from the publisher: http://genpopbooks.com/
I will be reading in Manhattan for the Adult Contemporary series on Thursday, October 23, at 8 pm. The reading is at The Bureau of General Services Queer Division (BGSQD) at The Center, 208 West 13th Street. Other readers are Jaime Shearn Coan and Amber Jamilla Musser:
http://bgsqd.com/event/adult-contemporary-presents-jan-clausen-jaime-shearn-coan-and-amber-jamilla-usser/
I'll be in Philadelphia on Saturday, October 25, reading solo at Wooden Shoe Books and Records, 704 South Street. The reading begins at 7 p.m.
(See the event on Facebook: https://www.facebook.com/events/860599843973286/)