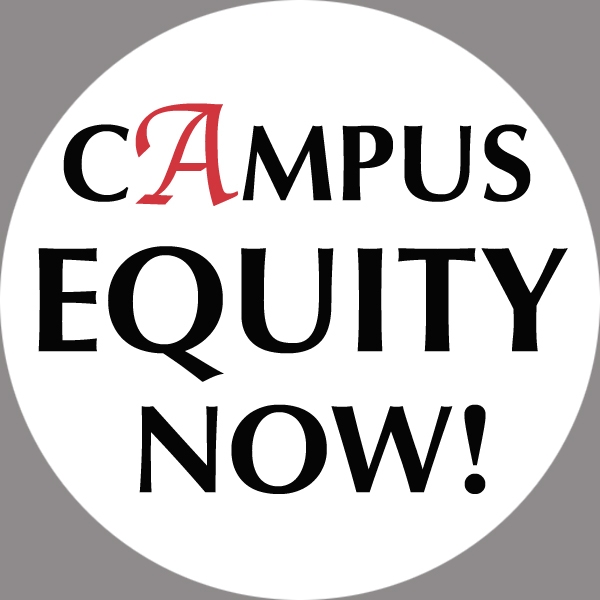 Campus Equity Week is a week of education and action to draw attention to the struggle of contingent academic workers for fair pay and the right to organize. Quality education depends practically and ethically on professional and just working conditions for all faculty and staff, including contingent faculty and graduate student workers. The crisis of contingent faculty employment at colleges and universities is at the core of the inequities that pervade higher education. For information on the week's history and national scope, visit www.campusequityweek.org/2013/.
You can take part in this important week by joining the UMass Graduate Employee Organization, the Massachusetts Society of Professors, and the Graduate Student Senate at any of the following events:
Monday from 12-1:30PM in DuBois Library 2601: come hear local heroes of the adjunct labor movement Ellen Martins and Sean Barrett speak about efforts to organize for better adjunct working conditions. Co-sponsored by MSP & GEO-UAW.
Monday thru Friday from 10-3 in the Campus Center Concourse: Stop by GEO-UAW's Solidarity Table and help support graduate student and faculty efforts to unionize, bargain fair contracts, and fight for fair treatment locally and nationwide! GEO-UAW will be collecting messages of solidarity for our UAW brothers and sisters at Goddard College, GSOC-UAW2110 at NYU, and UAW2865 at the University of California; testimonials about the importance of the union to graduate students at UMass Amherst; and signatures on important petitions.
Wednesday, 10/30, at 11:30AM in Campus Center 917: Barbara Madeloni, candidate for President of the Massachusetts Teachers' Association, will speak on the importance of organizing against neoliberal educational practices. Sponsored by GEO-UAW.
Wednesday, 10/30, at 7PM in Campus Center 911: Come out to a social justice dialogue on social class and graduate student identity, co-facilitated by GSS & GEO-UAW!
We look forward to seeing you at these important events! If you have any questions, please contact anna@geouaw.org.
In solidarity,
Anna and Eric